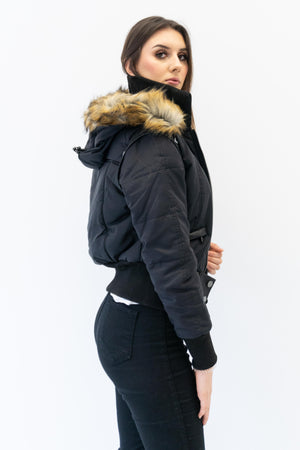 THE TALIA
The TALIA by FTX, short and sweet! Waist length, with a thick rib waist. This is a stunning washable faux-down jacket in a lustrous finish. Featuring a water-repellent and water-resistant shell, a fitted silhouette and a large hood which is trimmed in faux fur, this is perfect for every days wear. This coat is simple yet undeniably stylish, adding minimalist flair to your style. For a casual yet trendy look, the TALIA jacket is for you!

PRODUCT DETAILS
Fits true to size.
Water-repellent and water-resistant fabric.
Washable.
Fitted silhouette.
Center front zip closure.
Faux-fur trimmed hood with snaps.
Zippered pockets with flaps.
Waist length.
Super poly-fill faux dawn filling.                                                   Comfort zone down to -25c/-13f.